Secondhand Clothing for Export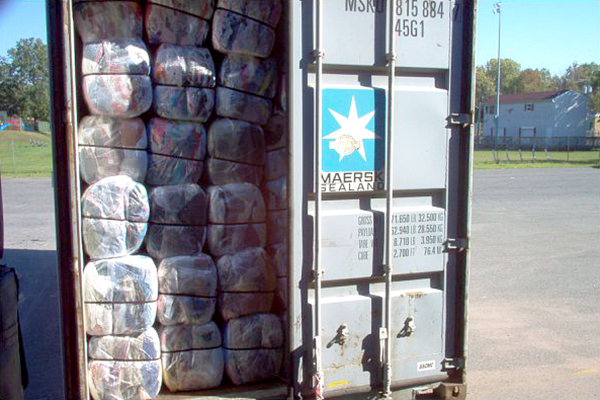 Trans-Americas FSC produces high quality grades of secondhand clothing that are sold worldwide. Eighty five employees sort 70,000 lb/31,800 kg of used clothing daily into 300 different grades of secondhand clothing. All of our exports are processed in our facility using one of the industry's most sophisticated material handling systems. Our advanced mechanization enables us to produce high-quality grades on a consistent basis.
No finished goods are purchased from outside vendors. Trans-Americas guarantees all of its clothing. You may Tour our Facility online, and you are welcome to visit our plant in Clifton, NJ by appointment.
If you do not have experience buying secondhand clothing please review First Time Export Buyers.
Trans-Americas packs customized bales of secondhand clothing in virtually any size from 100 lb/45 kg, 180 lb /82kg to large 1000 lb/450 kg. We regularly load 540 bales (100 lb) per 40' HC container and 250 (100 lb) bales per 20' container.
Trans-Americas' quality secondhand clothing sells in markets worldwide; for three generations our used clothing bales have earned a reputation for value - the highest quality clothing sold at competitive prices.
Children's Items
Lt. Children's Clothing (0-7 yr.)
Lt. Children's Clothing #2
Heavy Children's Clothing
Medium Children's Clothing
Girls Dresses
Boys Pants
Boys Denim Pants
Boys Cotton Shirts
Boys Flannel Shirts
Children's Polo (short sleeve/long sleeve)
Children's Mixed Sweatshirts & Sweat Pants
Children's Sweaters
Men's/Unisex Items
Mens Cotton/Rayon Pants
Mens Poly/Tergel Pants
Mens Cord Pants
Mens Wool Pants
Adult Jeans
Mens Cotton Shirts (long sleeve & short sleeve)
Mens Poly/Nylon Shirts
Mens Flannel Shirts
Mens Denim Shirts
Mens Tropical Jackets
Mens Tweed Jackets
Mens Underwear
Mens Heavy Underwear
Original Shorts & Swimsuits
Denim Cut Shorts
Cotton Polo T-shirts
Synthetic Polo
Turtle Neck Polo
Long Sleeve Polo
Wool Sweaters
Nylon/Synthetic Sweaters
Childrens Sweaters
Mixed Wool Caps & Scarves
Mixed Jogging
Jogging Sweatshirts
Jogging Sweatpants
Outerwear
Mens Raincoats
Ladies Raincoats
Adult Mixed Coats
Mens Zipper Jackets
Winter Ski Jackets/Vests
Winter Ski Pants
Denim Jackets
Women's Items
Ladies Cotton Dresses
Ladies Poly Dresses
Ladies Denim Dresses
Ladies Silk Dresses
Ladies Polo Dresses
Ladies Party Dresses
Ladies Cotton Skirts
Ladies Poly Skirts
Ladies Polo Knit Skirts
Ladies Wool Skirts
Ladies Denim Skirts
Ladies Cotton Pants
Ladies Poly Pants
Ladies Wool Pants
Ladies Cotton Stretch Pants
Ladies Cotton Blouses
Ladies Poly Blouses
Ladies Silk Blouses
Nylon/Silk Rummage
Bras/Gowns/Scarves
Womens Bathing Suits
Womens Blazers
Misc.
Household Rummage
Bed sheets/Pillow Cases
Bedspreads
Blankets
Caps
Socks
Paired Shoes and Sneakers
Ladies High Heels & Fashion Shoes
Handbags
Robes
Sleeping Bags
Stuffed Toys
Flags
Premium/Crème - Light & Heavy
Premium/Crème Nylon/Synthetic mix
*Premium mixes comprise 3-4% of what is processed daily. This clothing is in perfect, near new condition. It is graded and examined 2-3 times before baling. Because we process 30 tons a day, we accumulate large volumes of this highest quality clothing.