First Time Export Buyers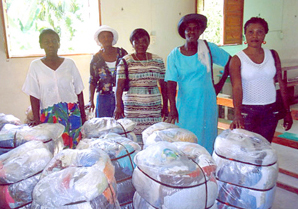 If you are inquiring about exporting secondhand clothing for the first time, we are including some objective advice to help you through the process.
It is beneficial to work with processors or graders directly. We strongly recommend you visit any company you plan to work with to insure they have a systematic method of grading that guarantees you quality used clothing on a consistent basis.

It is essential to understand the specific requirements of the market you are buying for. Each market is unique.

Examine our list of Secondhand Clothing articles and let us know which items you are interested in.
For more information, contact us at [email protected].
Frequently Asked Questions
1) How many bales can you load in a container?
We can load typically approximately 54,000 lb/540 bales (cannot exceed over the road limits) in a 40′ HC container and 25,000 lb/250 bales in a 20′ container.
2) Can you arrange for freight?
Yes, we can arrange for freight port to port and will quote you the rate we receive from the shipping company. As a large volume shipper we can often obtain lower rates to most foreign ports of destination.
3) Can you supply insurance?
Yes, we can supply marine F.P.A. insurance which insures 110% of the value of your container port to port against complete loss and non-delivery.
4) How much will a container cost?
Containers costs vary depending on composition, size, and the quality of goods you order. Contact us with your order and we will be glad to send you a proforma invoice.
5) Can you send me a price list?
Please contact us with your requirements and we will be happy to quote you.
6) How long will it take to receive my container?
The length of time to prepare a container varies with the composition. Upon receipt of your order we can give you a time table. Most containers take anywhere between 1-3 weeks to prepare.